Custom content
Introducing BeStyled
Introducing our very own styling membership called BeStyled by Lo & Behold.
Wether you love shopping and just need a little help or want someone to do it all for you BeStyled is perfect for all women who want to look and feel good! And the styling appointment is just the one of the amazing perks you'll enjoy each month!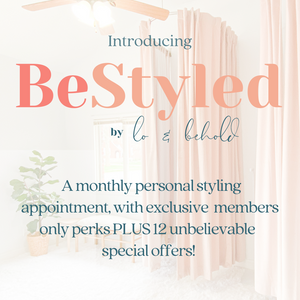 We're bringing strapless back
Them other bras don't know how to act.
Yeah!
But seriously- This isn't the sticky bra we all try to love but really hate. It moves with you white staying in place. Its practically seamless even under your favorite tee and doesn't flatten and smoosh your boobs like those other guys.
And over the last 2 months we've been putting it though the rigorous testing. Real life testing.
See how it did!